Gummy bears rule the house following the veto comp
April 21, 2022
23

2 minutes read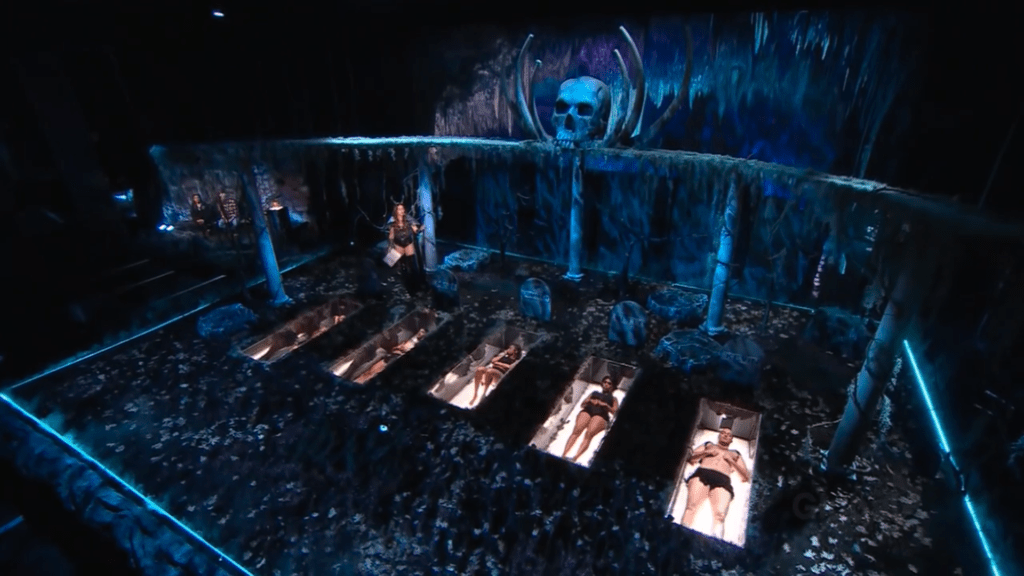 Following on from Monday's episode where three time HoH Marty nominated Josh and Betty…again.
First houseguest spun the wheel to decide who would compete with Summer, Gino and Kevin being chosen alongside Josh and Betty.
This weeks comp involve the competing houseguest trying to stay in a coffin for as close to 100 minutes as possible. Once competing houseguests buzz to confirm their time, they could then leave their coffin or stay in an attempt to fool the other competing houseguests.
Summer buzzed first, followed by Josh, then Betty, the Gino and finally Kevin.
Once all houseguests left their coffins, it was revealed that Betty had rung in closest to the 100 minutes, going just 42 seconds over and therefore was the winner of the Power of Veto.
Before the veto ceremony, Marty gathers Jacey-Lynn, Gino, Haleena and Kevin in the HoH room. As he believes they are all going to vote out Josh, he asks them to choose a random gummy bear to decide who will be the replacement nominee. Marty gives Gino the choice whether or not to be included. He choses to compete and draws the only red gummy bear, therefore securing his spot on the block and quite possibly his place in jury.
Of course, we haven't yet seen the veto ceremony, so Marty might choose to go back on the random draw. Who will be named as the replacement nominee and who will be the next houseguests to join the jury? Tune in to Global and stick with Big Blagger for the latest.