Big Brother Canada to welcome 4 international wildcard houseguests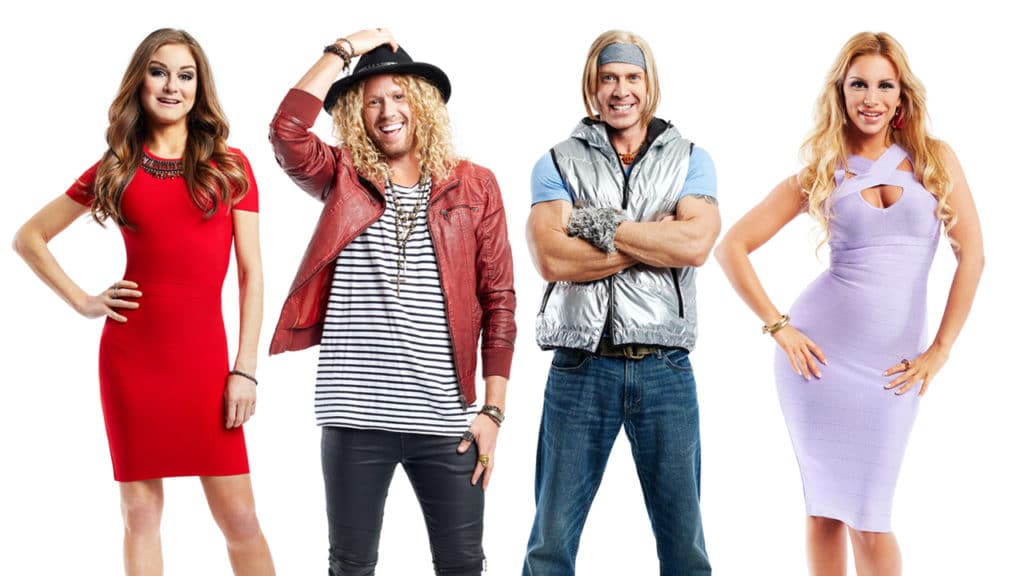 This morning, ET Canada announced a Big Brother world first!
For the first time in Big Brother history, four iconic international former houseguests are vying for a spot in the house, but only two will make it…and Canada holds all the cards. Starting today, Canadians have the chance to vote for two of this season's houseguests by choosing two of four international wildcard players. Fans can cast their vote on BigBrotherCanada.ca for their favourite female and male competitor to enter the Big Brother Canada house.
Upping the ante and raising the stakes, these international players take the competition to a whole new level as they bring their own unique Big Brother experiences to season four of  Big Brother Canada. Voting closes Thursday, March 3 at 3 pm ET. Stay tuned to find out which wildcards make the cut as reveals roll out during the first broadcast week of Big Brother Canada, which premieres  Wednesday, March 2 at 9 pm ET/PT on  Global.
Celebrating the international success of the worldwide juggernaut reality show franchise, the wildcard element brings together some of the most talked about players of all time to see how they fare amongst Canada's dynamic new houseguests. The international wildcard choices are: Jase Wirey (Big Brother US), Nikki Grahame (Big Brother UK), Tim Dormer (Big Brother Australia), and Veronica Graf (Big Brother Italy).
"We're very excited to be introducing this new aspect to Big Brother Canada which has never been done in any country before," said Christine Shipton, SVP, Content, Shaw Media. "The addition of the international wildcards makes this season especially unique and unpredictable. Big Brother follows different house rules in each country and these worlds are about to collide!"
See below for more details on the four international wildcard houseguests.
Jase Wirey 
Big Brother US (Seasons 5 and 7)
Hometown:USA
Occupation: Sales and Safety Trainer
Jase is instantly recognizable to any Big Brother fan from the popular US version of the show and is still the only houseguest to win the first Head of Household in multiple seasons. Known for his physical abilities and his dislike for wearing shirts, Jase is looking for redemption in the Big Brother Canada house.
Nikki Grahame
Big Brother UK (has played in a total of five seasons)
Age:33
Hometown: London, United Kingdom
Occupation: TV Personality
Nikki Grahame is quite simply a Big Brother franchise icon, and she'll be the first to make that known! Her behavior – most notably her epic diary room temper tantrums – is legendary. She has appeared in five different seasons of the series and also had her own reality series, Princess Nikki. In 2006, her first season on the show, she was the 12th most written about person in the UK.
Tim Dormer
Winner Big Brother Australia  (Season 10)
Age: 31
Hometown: Sydney, Australia
Occupation: TV/Radio Personality
Tim is one of Australia's biggest reality TV stars. As the Season 10 winner of Big Brother Australia, he's charmed audiences and houseguests alike. Even though he's made his way to the top as a manipulator, he's clearly rooting for a fair game, and often stands up for the underdog.
Veronica Graf 
Big Brother Italy  (Season 13)
Age: 26
Hometown: Faenza, Italy
Occupation: TV Personality/Model
Veronica is the most famous and most talked about Italian houseguest ever. Although commonly seen as a sexy  Playboy bunny (she posed in the Italian edition of the magazine), she has also studied business and economics. Sure to stir up controversy, houseguests will not be able to judge this book by its cover.
Watch ET Canada tonight at 7:30 pm ET on Global for interviews with the Big Brother Canada international wildcards!